October Boogie Fest 2019 (4-6 October)
5th edition of Boogie-Woogie dance festival in Kyiv, Ukraine.
Interesting workshops and bonuses, great parties, wonderful competitions and jack-n-jill, performances, live music and a lot of dance.
And of course lovely and open people.
See you next year!
---
TEACHERS
Sondre Olsen-Bye and Tanya Georgiievska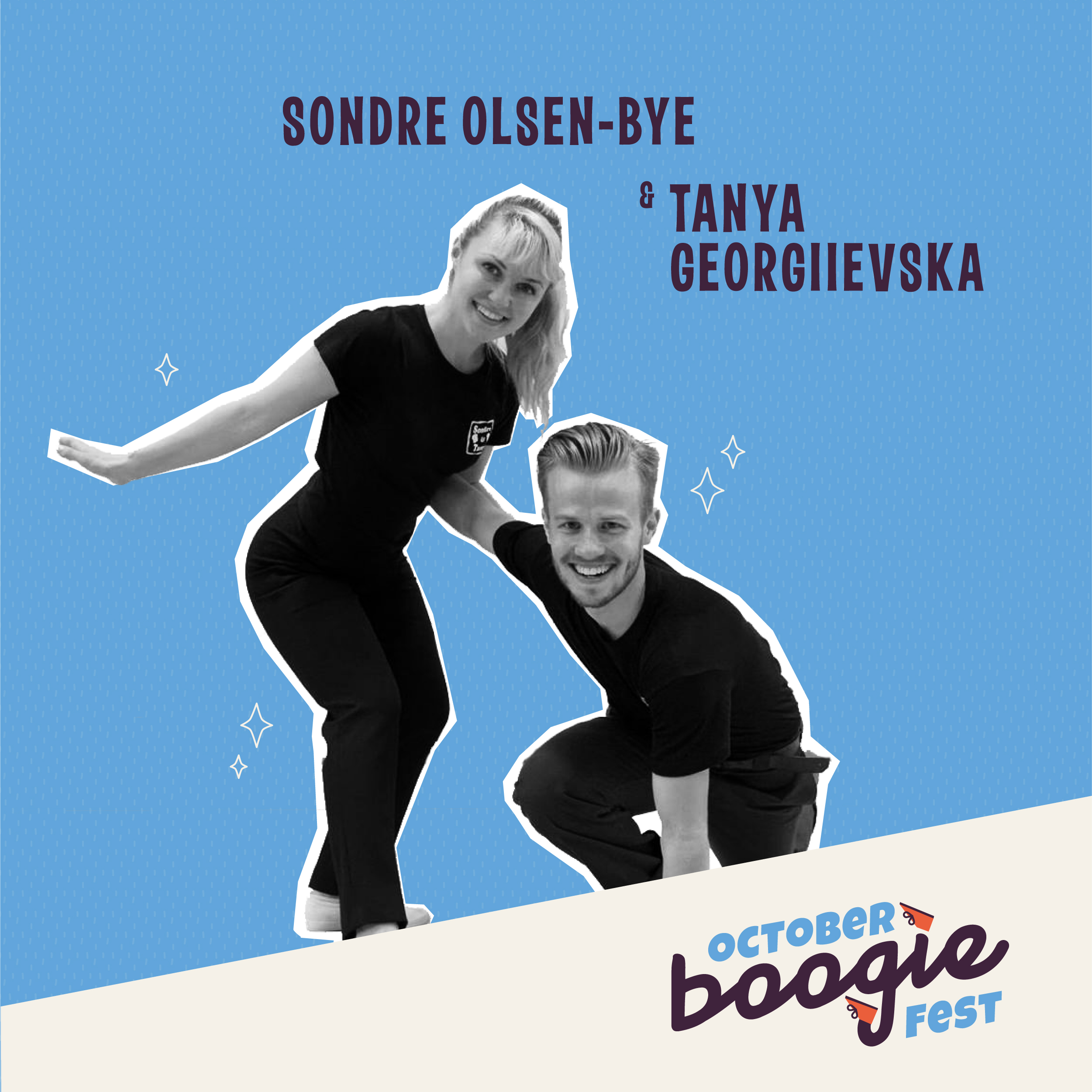 Travelling professional dance instructors, performers and competitors.
Tanya and Sondre started their partnership at Swing Aout Festival 2015 (Laroquebrou, France) and right after that they got invited to teach in Canada. Since then it rolled like a snowball with more and more invitations to teach and perform Boogie-Woogie and Lindy-hop in different events around Europe. Apart from that they got involved into the international Boogie-Woogie competition scene representing Norway. During 2016-2018 they have entered all finals in each competition. Their fast development made them win 8 World Cups, 2 Nordic Championships, 2 Norwegian Championships and, most important, European Championship 2018 (Schaffhausen, Swiss) and World Championship 2017 (Marseille, France). Currently, they are one of the most demanded and invited couples at international events (camps, festivals). Their plan is to keep on competing, performing, teaching and sharing the dances they love in any possible way!
They also organize one of the Europe's biggest pure Boogie-Woogie festival, Boogie Feet's Festival, together with their danceclub Lesja Dovre Danseteam.
Jeremy Chanton and Melanie Deniau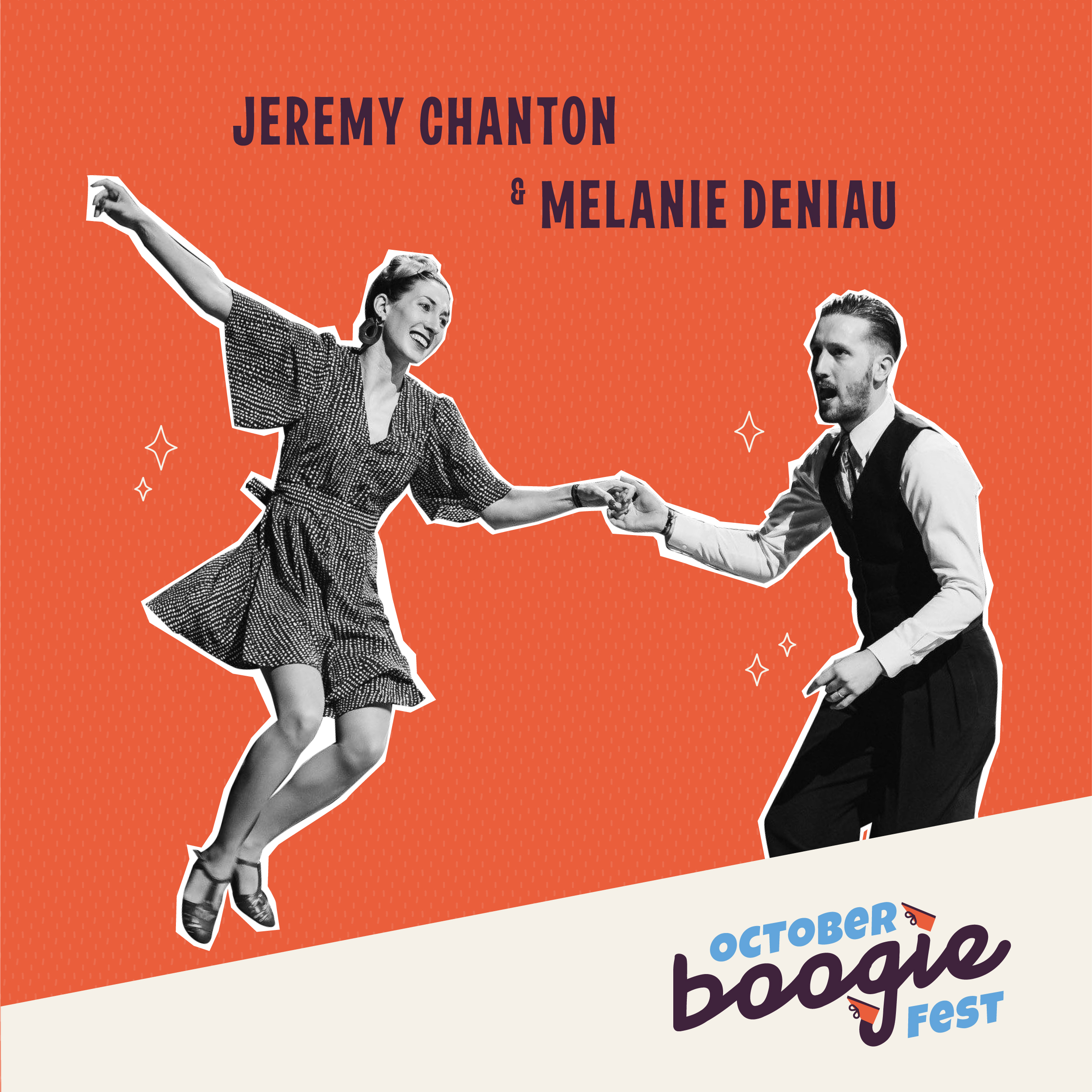 Jérémy dances since his childhood beginning with Rock'n'roll and Boogie-Woogie.
Starting competition in his teenage years, he reached podium places in french competitions and finals in international competitions.
In 2015, he joined a swing group where he continues to improve in Lindy-hop and Charleston.
In few years, he managed to win some awards (The Snowball 2017 (J'n'J Advanced) 1st pl., Savoy Cup 2019 (J'n'J Advanced, Open Couple Showcase, Strictly All Star) 1st pl.) and perform with other talented dancers during festivals (showcase French Fries: Snowball 2015, Rock That Swing 2017, 2018).
Mélanie begun Rock'n'roll at 7 years old.
She fell in love with Boogie-Woogie and was ranked belong the top 10 in the world during 4 years with her brother Nicolas Deniau.
After 3 years break, where Mélanie retired to cabaret, she came back in the swing scene in 2015 doing some festivals and competitions. She quickly catch up and growed with other talented dancers (ESDC 2015 (Open Showcase) 2nd pl., ESDC 2015 (Open Strictly) 1st pl., Savoy Cup 2018 (J'n'J Advanced) 3rd pl., Savoy Cup 2019 (Open Couple Showcase, Strictly All Star) 1st pl.).
Since 2018, Jérémy and Mélanie teaches regularly in Bordeaux and travels in national & international festivals to teach and perform.
Sergey Kovalov and Sofya Kapustina (Kuva and Sonya)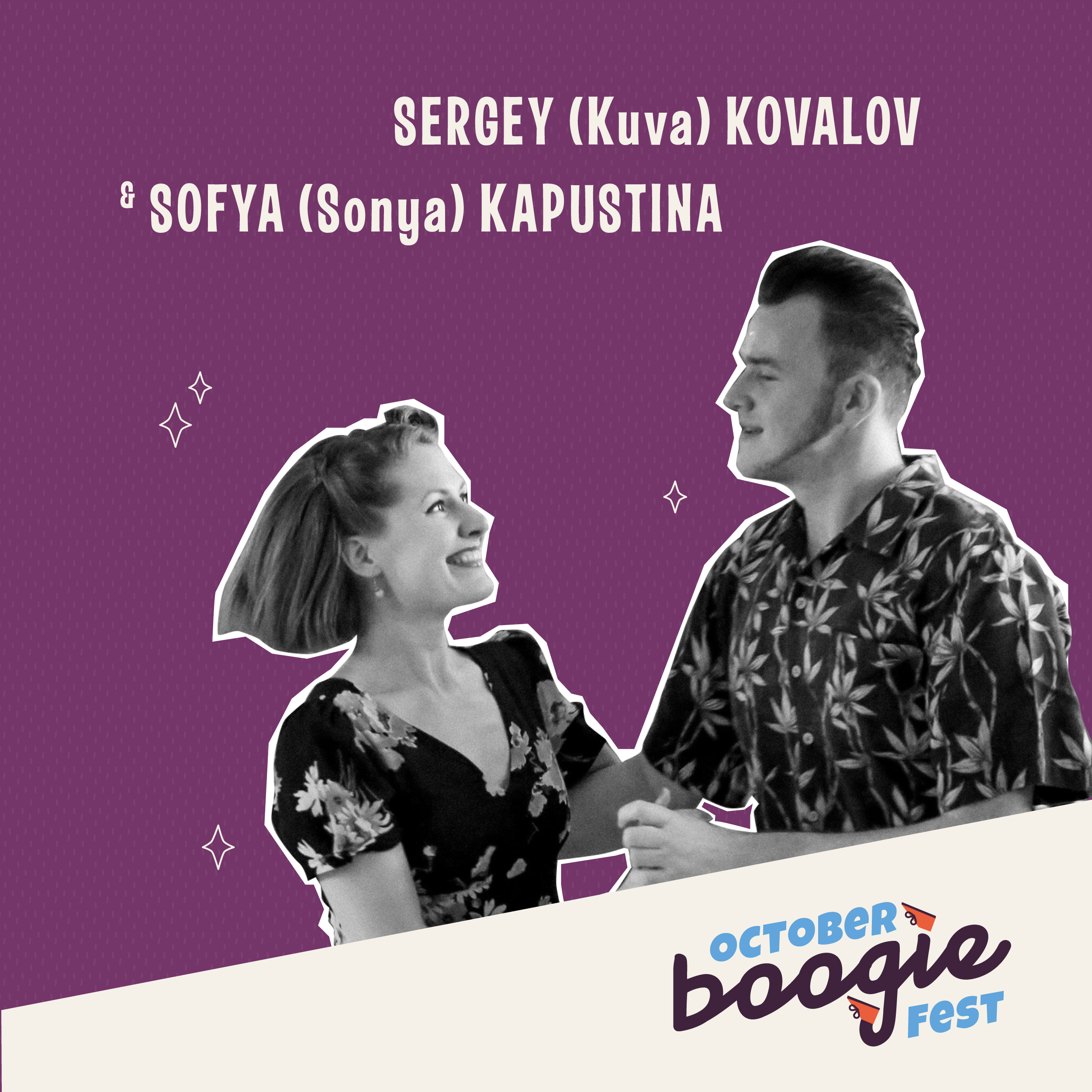 The couple without which none of our October Boogie Fest can be - wonderful, lovely, crazy and inspiring - Sergey Kovalev and Sofya Kapustina (Kuva and Sonya)!
They are wonderful dancers and great teachers. Their peculiar style, both in Boogie-Woogie and in Collegiate Shag, allows them to be noticeable among the dancers. And classes are always interesting, fun and very informative, because they find an approach to each student.
Kuva and Sonia are founders of Hot Boogie Club and they brought up more than one generation of hot boogiers. And now they live and teach in Norway, continuing to do their favorite job and raise new swing dancers.
---
WORKSHOPS
6 hours of boogie-woogie on each level, 3 levels.
There will be auditions for the levels.
3 hours of special showcase bonus with Sondre and Tanya
2 hours of bonuses.
2 hours of testers free for all festival participants.
Classes schedule: OBF 2019 Info
All classes will be held (except of friday bonuses at party venue and on-party testers) at Myway Dance Studio, Oleksandra Dovzhenka st, 3, (metro Shulyavska).
---
PARTIES
Welcome Party
Friday, October 4, 21:00-03:00.
This year we prepared something interesting for you.
Vinyl Party will open our festival.
DJ Bertolt (Belgium) and DJ Root Fruit (Ukraine) will please everyone with their collections of vinyl records.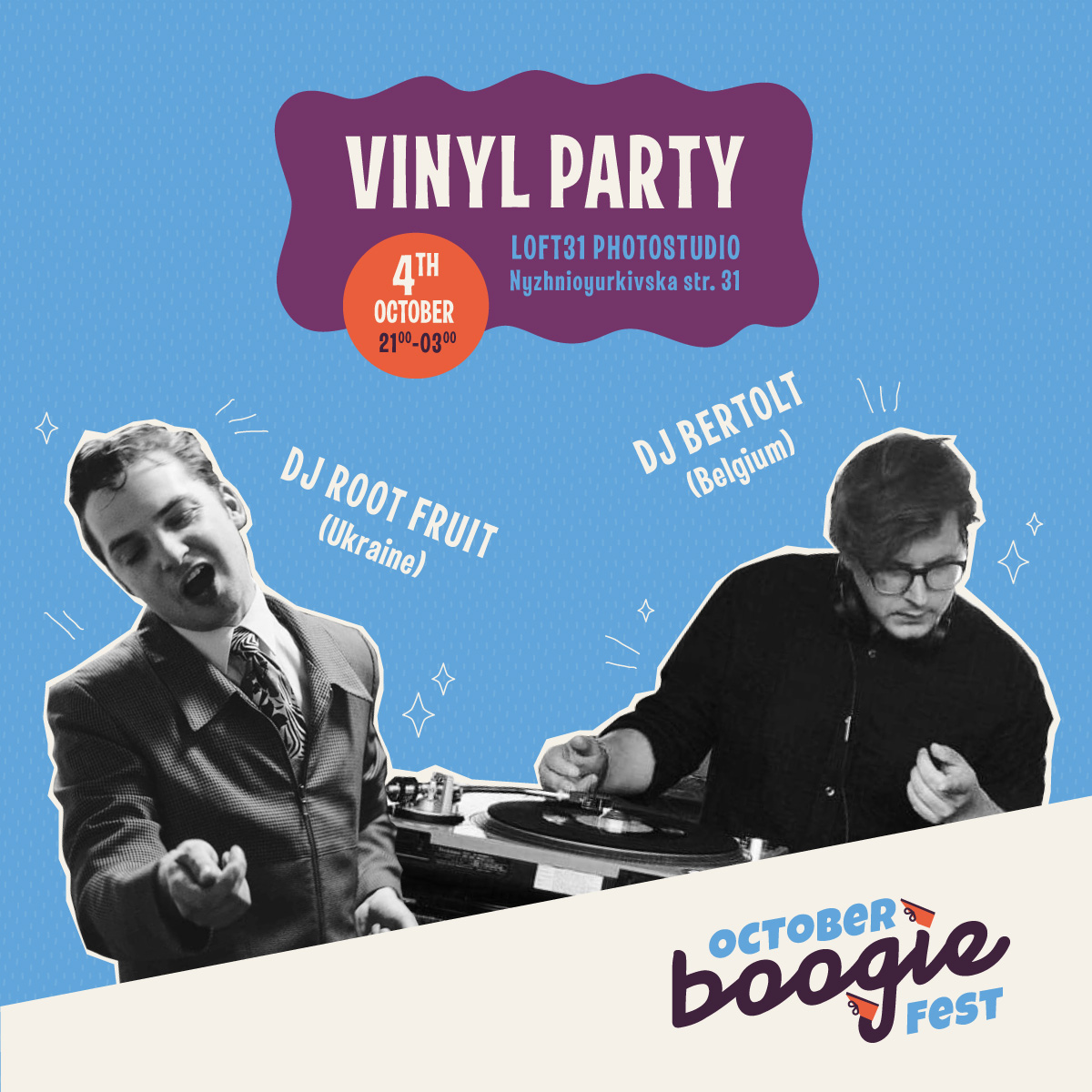 At the start of the party will be a free taster from Ksusha Smirnova and Sergey Savateev. They will show shim shag - a variation of well-known shim sham with shag elements. There will be also Amateur JnJ competition for or those who dance not more than 3 years and didn't win a prize in the JnJs.
Activities: Vinyl DJ sets. Teachers presentation. Amateur JnJ.
Price: 15 EUR (400 UAH)
Venue: Loft31, Nyzhnoiurkivska St, 31 (metro Kontraktova Ploshcha)
Main Party
Saturday, October 5, 21:00-05:00.
There will be a surprise on our main party - an exclusive music project - Alex Kravchenko Boogie Quartet.
These are Incredible musicians who are well versed in dance swing music (because some of them are dancers too) and know what to play to leave everyone on the dance floor. The fiery rhythms of boogie-woogie and exiting jump-blues are all waiting for you at Our Party.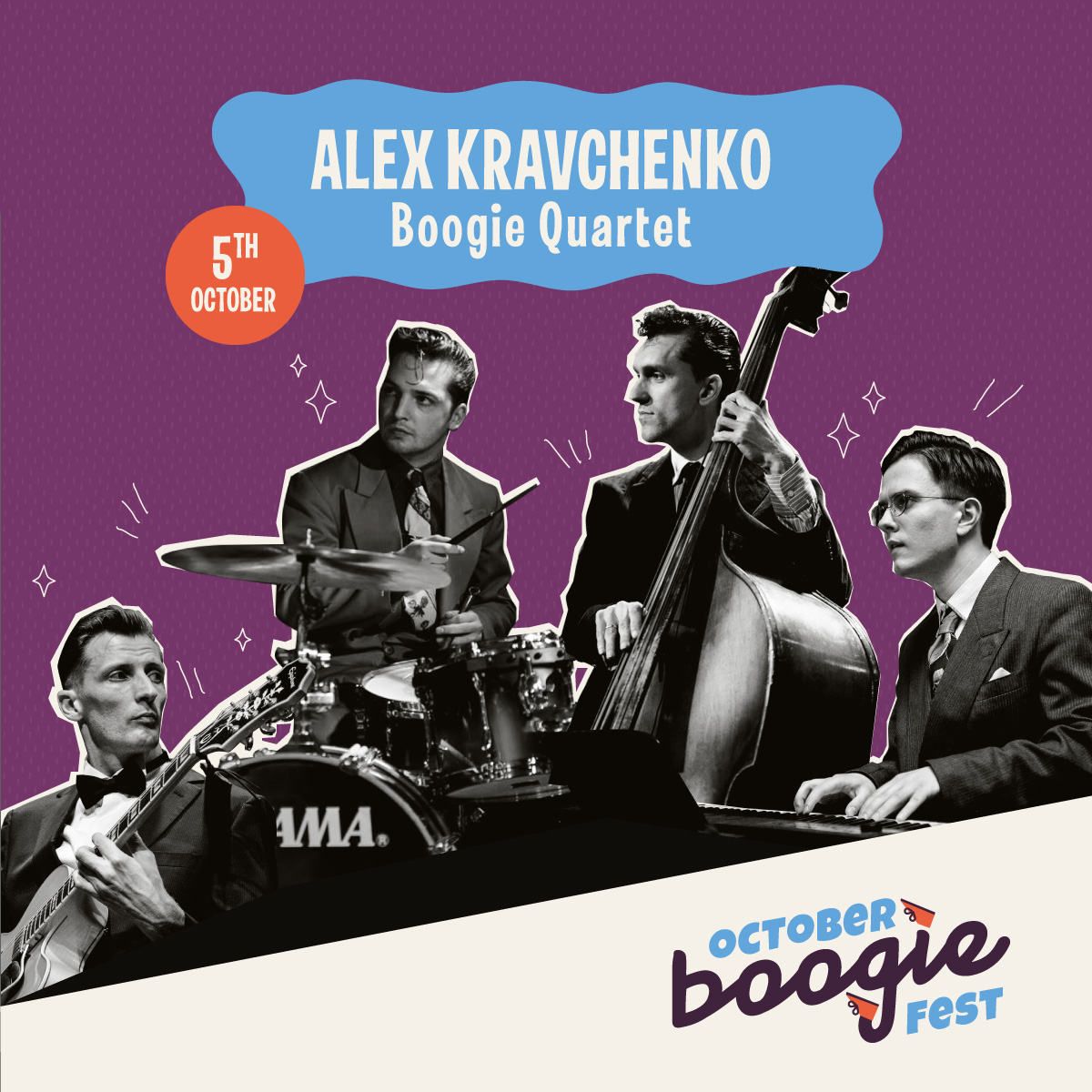 A free taster from Olya Smirnova will open this party. She will show you how to dance solo for the boogie woogie beats. Two types of competitions will be held at this party: Advanced JnJ for those who dance more than 3 years or won a prize in JnJs and
Open Strictly - a competition in your couples for all levels.
Activities: Live music. Advance JnJ. Open Strictly.
Price: 15 EUR (400 UAH)
Venue: Professional Dance Studio, Nimetska St, 1/32 (metro Palats Ukraina)
Farewell Party
Sunday, October 6, 19:00-23:00.
This evening wonderful RVB (Ruki'v Bryuki) will play for you.
Mix of 50's music: rock-n-roll, rockabilly, rhythm and blues, swing, blues and jazz.
Broad dance floor, energetic music, wonderful company and mad dancing!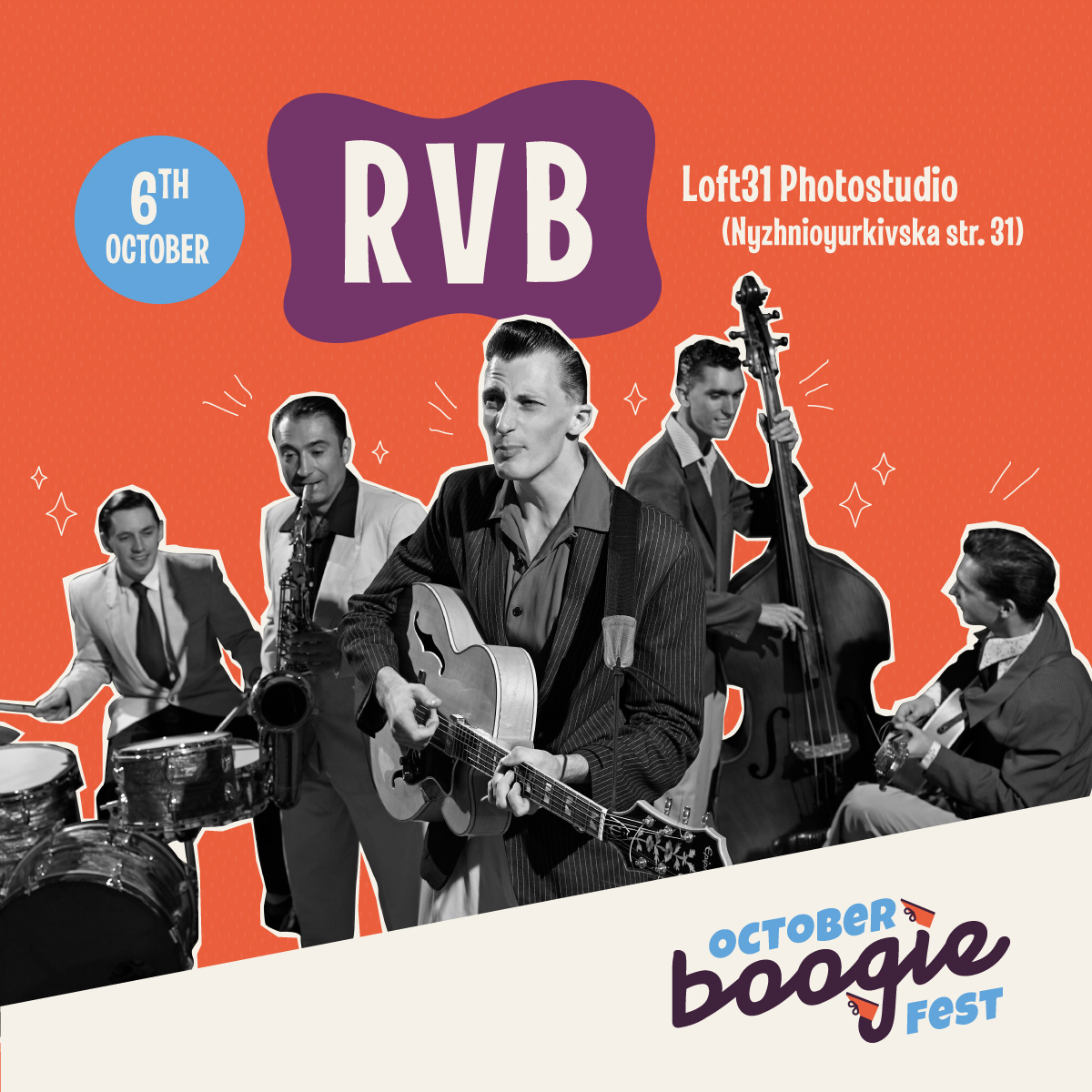 It will be perfomance time for those who singed for showcase bonus with Sondre and Tanya at this party.
Activities: Live music. Showcase with Sondre and Tanya.
Price: 15 EUR (400 UAH)
Venue: Loft31, Nyzhnoiurkivska St, 31 (metro Kontraktova Ploshcha)
---
PRICES
Full Pass - main track that includes 6 hours of boogie classes, 2 hours of bonuses, 2 hours of tasters and 3 parties.
Party Pass - track that includes 2 hours of tasters and 3 parties.
Showcase Pass - special 3 hours track for dance couples where you and your partner will learn and perform the showcase with Tanya and Sondre. Notice, that this bonus track is only for dancers with intermediate level and higher. *It is additional 50% discount for this track for person who takes Full Pass.
Single Bonus  - 1 hour bonus class to choose from 2 bonuses available, themes for classes will be announced soon.
 

before

18 August

before

15 September

before

3 October

on the spot

Full Pass

100 EUR

120 EUR

150 EUR

180 EUR

Party Pass

30 EUR

15 EUR

each party

Showcase Pass
60 (30*) EUR
Single Bonus
20 EUR
Exchange rate 1 EUR = 32 UAH
We draw your attention that in case of refusal to participate in the festival, the paid funds will be returned in amount:
Till 15 September - 50%
After 15 September - 0%
Variants of payment will be sent in the e-mail, which confirms registration.
---
CONTACTS
Please visit our facebook event page for more details: OBF 2019 on FB.
Classes schedule: OBF 2019 Info. Useful places near the venues: Google Maps
If you have any questions, please contact us: hotboogieclub@gmail.com
Sincerely, your HBC team :)
---
Hot Boogie Club
Kyiv, Ukraine